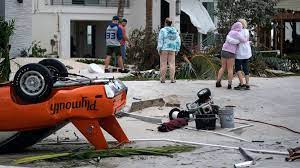 Many of us were devastated by Hurricane Ian last week. We are deeply saddened to hear about our friends and family members throughout SW Florida who have lost everything.
Helps Outreach is open and here to help as always. We are accepting the following items, specifically to help those that have been affected by Hurrican Ian.
Non Perishable Food – please check the dates before you donate.
Household items such as coffee pots, plates, cups, coffee mugs, pots, pans & utensils.
Sheets, blankets, towels, pillows, & pillow cases.
Clothing, socks, bras, underwear & shoes.
Paper plates, plastic cups, and utensils.
Diapers & wipes
Shampoo, Conditioner, Body Wash, Deoderant, Toothpaste & Toothbrushes.
When gathering these items, please follow this rule: If it is not good enough for you or your family, then it is not good enough to donate. We treat each client with dignity and respect, and part of that process includes giving them items that are still in good, usable condition.
Donation drop-off times are Monday, Tuesday, Thursday, & Friday from 10 am – 2:30pm.
If you are interested in donating furniture such as beds, box springs, dressers, kitchen tables, couches, & appliances please call 239-287-1159 to coordinate pick up.
Monetary donations can be made here.
Thank you for your continued support.